Haomei Anodized aluminum sheet a wide range of color aluminum metal products. Contact us to find exactly what your application calls for and how we can expertly process to your requirements we've got you covered.
General Information of anodized aluminum sheet
Anodized aluminum sheet is created through an electrochemical process which allows the color to penetrate the pores of the aluminum sheet, resulting in an actual change in the color of the metal surface. Anodized aluminum is harder and more resistant to abrasion and corrosion. Lasers to white-ish / gray. Please note: only one side is prime and mask-protected.
Most anodized aluminum sheets are colored on both sides and can be rotary, diamond drag, or laser-engraved. Laser engraving produces a whitish gray mark. Anodized aluminum sheet is not recommended for sublimation. Our colored anodized aluminum sheet is typically used in decorative applications and is not suitable for outdoor use. However, our satin silver anodized aluminum sheet can be used outdoors.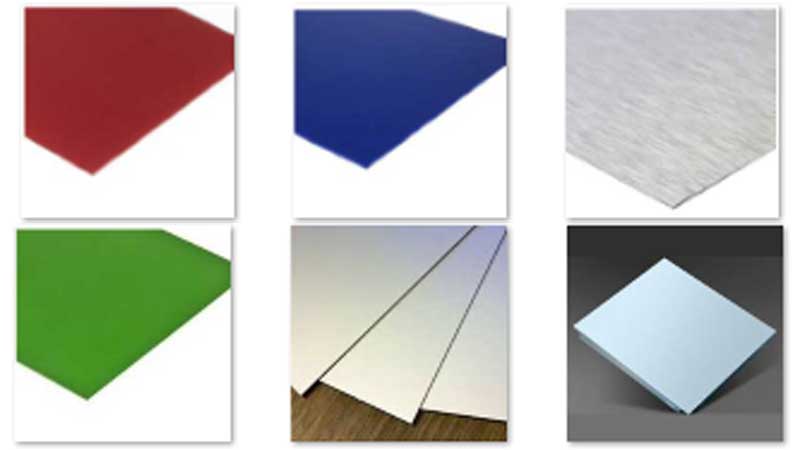 THER COLORS/FINISHES AVAILABLE:
Bronze & LA Extra Dark Bronze
Black
Gold Satin, Brite Gold & Brite Brushed Gold
Brite Copper
Brite Clear & Brite Brushed Clear
Aluma Plus
Specular Lighting Sheet
AnoGrip
Applications of anodized aluminum sheet
| | | |
| --- | --- | --- |
| Architectural Exterior | Windows and Doors | Rail Cars |
| Storefronts | Interior Wall Panels | Appliance |
| Curtain Walls | Ceilings | Food Service |
| Architectural Interior | Lighting | Signage and Nameplates |
| Exterior Panels | Recreational Vehicles | Solar |
| Roofing | Automotive | Electronics |
PERFORMANCE CHARACTERISTICS:
The good workability:anodic oxidation aluminum plate has high decorative performance, modest hardness, can be easily bending and forming. highly speed stamping continuity is convenient for directly processed into products,It do not need carry out complex surface treatment, greatly shorten production cycle and reduce production costs.
Good Weathering: anodic oxidation aluminum plate with standard thickness oxidation film (3μm) is used in long-term discoloration indoor, no corrosion, not oxidation, no rust.Those with increasing Thick oxidation film (10 μ m) can be used in outdoor , and long-term exposed to sunlight with discoloration.
Strong metal Feeling: the anodized aluminum has high surface hardness,coming to the gem grade,high resistance to scrape ,the surface not having paint covers, keeping aluminum metal color, improving the product level and added value.
We understand that a full coil of aluminum isn't practical or necessary for all of our clients. If you're looking for the beauty of anodized in a smaller package, anodized sheets may be a better option for you.
The benefits that anodized aluminum sheets have to offer:
EASE OF USE
Anodized aluminum sheets are more manageable for many companies than a large coil of anodized aluminum. They're easier to handle, especially if your company manufactures small parts or consumer goods. With a smaller sheet of anodized aluminum, employees can easily move and manage the anodized sheets that enter your facility.
SIMPLE SHIPPING
Anodized aluminum is already 60 percent lighter than any other competing metal on the market. Smaller and lighter than a full coil of anodized aluminum, anodized aluminum sheets are cut and shipped to you more easily, and more swiftly than a bulky package. This means you get the beauty, functionality, and durability of anodized, wherever and whenever you need it.