An aluminum sheet metal thickness refers to the thickness of an Aluminium Sheets, a flat square (or rectangle) piece of aluminum material with a thickness of between 0.2mm and 500mm, a width of 200mm (some are even 50mm and above) and more, and a length of 16m or less.
General Information of Aluminum sheet thickness
The aluminum sheet metal thickness can be divided into four categories: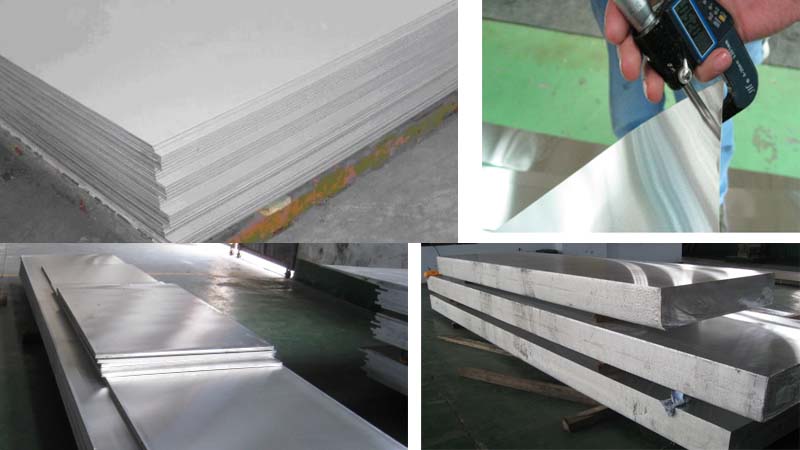 Thin sheets (mm): 0.15-2.0
Regular sheets (mm): 2.0-6.0
Medium-thick sheets (mm): 6.0-25.0
Thick sheets (mm): 25-200
Super thick sheets (mm): 200 and above.
Theoretically all Aluminium Sheets metals can be made into the five thickness ranges above, but some are usually made into thin sheets and others thicker sheets. For example, 1000 series like 1050, 1060 and 1070 are usually thin or regular sheets, while 6061 and 7075 aluminium are usually thicker sheets.
About aluminum sheet THICKNESS TOLERANCES
width
THICKNESS TOLERANCES
A-type aluminum plate
B-type aluminum plate
<=1000mm
+-0.14 mm
+-0.15 mm
>1000mm and <=1600mm
+-0.17 mm
+-0.18 mm
>1600mm and <=2000mm
+-0.22 mm
+-0.23 mm
>2000mm and <=2500mm
+-0.19 mm
+-0.19 mm
>2500mm
+-0.19 mm
+-0.19 mm
Aluminium Sheet Metal Gauge
A Aluminium Sheets metal gauge (sometimes spelled "gage") indicates the standard thickness of sheet metal for a specific material. As the gauge number increases, the material thickness decreases.
Thickness
Weight Per Area
Gauge
in
mm
lb/ft²
kg/m²
000000
0.5800
14.732
8.185
39.962
00000
0.5165
13.119
7.289
35.587
0000
0.4600
11.684
6.492
31.694
000
0.4096
10.404
5.780
28.222
00
0.3648
9.266
5.148
25.135
0
0.3249
8.252
4.585
22.386
1
0.2893
7.348
4.083
19.933
2
0.2576
6.543
3.635
17.749
3
0.2294
5.827
3.237
15.806
4
0.2043
5.189
2.883
14.076
5
0.1819
4.620
2.567
12.533
6
0.1620
4.115
2.286
11.162
7
0.1443
3.665
2.036
9.942
8
0.1285
3.264
1.813
8.854
9
0.1144
2.906
1.614
7.882
10
0.1019
2.588
1.438
7.021
11
0.0907
2.304
1.280
6.249
12
0.0808
2.052
1.140
5.567
13
0.0720
1.829
1.016
4.961
14
0.0641
1.628
0.905
4.417
15
0.0571
1.450
0.806
3.934
16
0.0508
1.290
0.717
3.500
17
0.0453
1.151
0.639
3.121
18
0.0403
1.024
0.569
2.777
19
0.0359
0.912
0.507
2.474
20
0.0320
0.813
0.452
2.205
21
0.0285
0.724
0.402
1.964
22
0.0253
0.643
0.357
1.743
23
0.0226
0.574
0.319
1.557
24
0.0201
0.511
0.284
1.385
25
0.0179
0.455
0.253
1.233
26
0.0159
0.404
0.224
1.096
27
0.0142
0.361
0.200
0.978
28
0.0126
0.320
0.178
0.868
29
0.0113
0.287
0.159
0.779
30
0.0100
0.254
0.141
0.689
31
0.0089
0.226
0.126
0.613
32
0.0080
0.203
0.113
0.551
33
0.0071
0.180
0.100
0.489
34
0.0063
0.160
0.089
0.434
35
0.0056
0.142
0.079
0.386
36
0.0050
0.127
0.071
0.345
37
0.0045
0.114
0.064
0.310
38
0.0040
0.102
0.056
0.276
39
0.0035
0.089
0.049
0.241
40
0.0031
0.079
0.044
0.214