Haomei aluminium plate processing services deliver custom-sized aluminum tread plate to your specifications. Our maintain a 20+ million pound aluminum products inventory, offering you a large variety of aluminum tread plate, diamond plate and painted aluminum alloys and grades. Always committed to the highest quality standards, we work to ensure that our customers have the best selection, cost and service experience possible..
General Information of Aluminium Tread plate
Aluminium Tread plate is a light-weight metal sheet with a regular pattern of raised diamonds. The added texture reduces the risk of slipping.
Aluminium Tread Plate is practical, decorative, durable and economical. Ideal for a variety of uses, including kickplates, doorways, door protectors, flooring, Industrial Settings (stairs, walkways), Vehicle modifications. 5 bar chequer plate can also be used decoratively.
A very common mistake made when ordering Aluminium Tread Plates is over the thickness of the product, O/P means On Plane not over pattern, as an example 4.5mm O/P Tread Plate will give you an over all thickness of approximately 6mm including the pattern.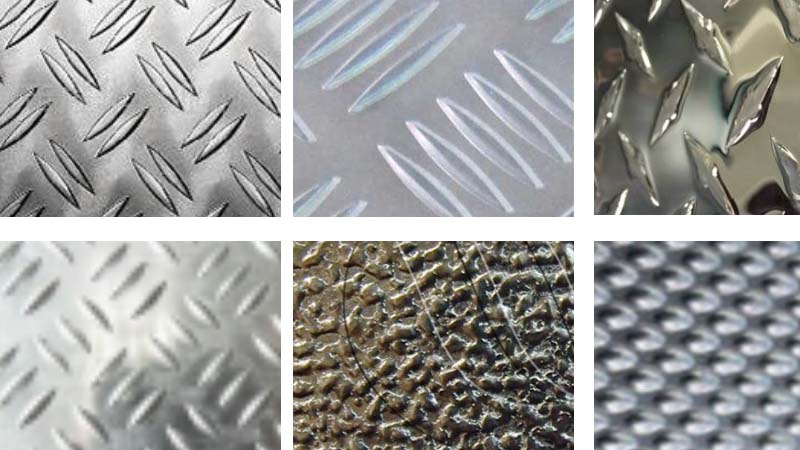 List of Aluminium Tread plates:
single-bar tread plate/Aluminum Diamond Plate
2 Bar Aluminum Tread Checker Plate Sheets
3 Bar Aluminum Tread Plate
5 Bar Aluminum Treaplate/Aluminium Five Bar Tread Plate
Orange peel aluminum tread plate
Lentils aluminum tread plate
Spherical aluminum tread plate
Non-slip Embossed aluminum tread plate
Common aluminum alloy Tread plates material
Highly Polished 3003-H22 Aluminum Diamond Plate
The brilliant shine of Aluminum Diamond Plate adds sparkle, along with durability. AKA: Aluminum Diamond Plate, Aluminum Tread Plate, Tread Bright, Aluminum Floor Plate, this highly reflective, economical product is widely used in decorative, cosmetic and architectural applications. Having good forming, drilling and welding ability, Aluminum Diamond Plate is easy to fabricate and its raised diamond lug pattern provides good slip resistance. We are now stocking select sizes in FTQ or Fire Truck Quality Diamond Plate which has grooves etched in the top of the diamond for added traction.
Mill Finish 6061-T6 Aluminum Diamond Plate
Strength, skid resistance, and durability are the primary selling points of this product. Although its mill finish is not as flashy as 3003 grade, 6061 Aluminum Diamond Plate is widely used for industrial applications - flooring, loading ramps, trench covers, dock flooring, stair treads, elevator floors, freezers floors, etc. Offering increased strength and corrosion resistance, 6061 Aluminum Diamond Plate, is easy to weld and machine, but has limited formability.
5754 Aluminum tread plate
The alloy 5754 tread plate & sheet is able to optimize product performance thanks to low weight due to aluminium's low density. Tread plates can be pre-painted with a primer on the reverse side for easy bonding during assembly.
1050/1060/1100 big five bar aluminum tread plate
Temper O,H12,H14,H16,H18,H112
Thicknessmm 1.0mm~20mm
Width 1900mm under
Length 12000mm under
1050/1060/1100 Pointer pattern aluminum tread plate
Temper O,H12,H14,H16,H18,H112
Thicknessmm 1.0mm~20mm
Width 1900mm under
Length 12000mm under
5052/5083/5754/ 5A05/5A06 Pointer pattern aluminum tread plate
Temper O,H14,H24,H22,H112,T4,T6
Thicknessmm 1.0mm~20mm
Width 1900mm under
Length 12000mm under
6061/6063/6082/ 6A02 big five bar aluminum tread plate
Temper O,H14,H24,H22,H112,T4,T6
Thicknessmm 1.0mm~20mm
Width 1900mm under
Length 12000mm under
6061/6003/6082/ 6A02 Pointer pattern aluminum tread plate
Temper O,H14,H24,H22,H112,T4,T6
Thicknessmm 1.0mm~20mm
Width 1900mm under
Length 12000mm under